What is so powerful about clicker training? Why does it work and what do you need to succeed?
Here are some of my favourite tools for training horses and how they changed my training approach to a much more horse friendly way of training.
1 Clicker or bridge sound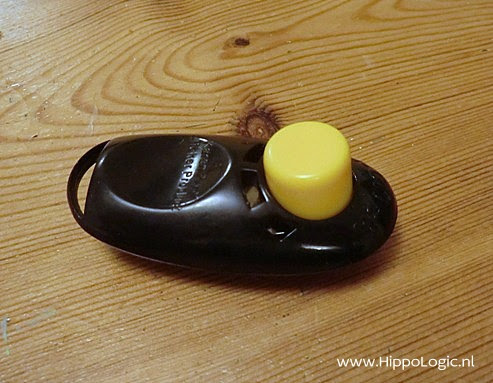 The most powerful communication tool I ever had is the clicker. This simple device has had such a great impact on my life and on all of the horses I trained.
It is the concept of the clicker that is important and changed my whole training approach and philosophy. It changed my focus to what I want from what I don't want. By focusing on what I want, I get more of it.
The click marks the exact behaviour and then a reward follows. In this way I can communicate very clearly to my horse what it is I want. He will try to do more of that behaviour and he will be rewarded again. I never reward him 'for a good ride' anymore, but I reward specifically for 1 perfect step of shoulder in. If my horse understands that it's the shoulder in I reward for, he'll give me more. When I 'rewarded' my horse after a ride by feeding him dinner it has never guaranteed me a better ride next time. He simply didn't connect the food with the quality of the ride, he probably associated it with taking the saddle off.
If the horse doesn't have to be afraid of punishment or aversives, the chances improve that he will try more behaviours which makes it easier to teach him more and more things. It encourages the creativity of the horse.
2 Reinforcers

When I changed my focus from traditional training to working with rewards I was forced to think about the question 'What is rewarding for my horse?' If the reward is not reinforcing the behaviour you're training it is useless as reward.
This resulted in observing my horse with new eyes. I started to pay more attention to his preferences: what kind of exercises/training did he like best? What treats did he eat first if I gave him a choice? What was his favourite scratching spot? I also noticed other things about him, like who were his friends in the pasture and where he stood in the herd hierarchy. I learned a lot since I started focusing on rewards and my horses' opinions about them.
3 Timer
When I started using clicker training I trained with my pocket full of treats, but often I used a kitchen timer to make sure I didn't over-train my horse.
I used 5 minute training blocks with breaks in between. I had never used a break in my training before! I used to train and train and train. My horse improved, I changed my criteria, my horse improved, I raise my criteria and so on, until my horse didn't improve anymore. That often resulted in ending our rides with some frustration for both of us.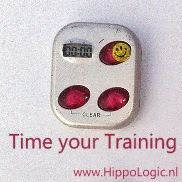 The timer made me much more aware of the improvements we made per session. Taking breaks also gave me the opportunity to reconsider my training approach if necessary. A break can also be a big reward, just a few minutes to relax.
In the break my horse can decide what he wants to do. If I work at liberty the breaks I give my horse can give me valuable information. Does he stay with me, does he walk off? What is he going to do in the break? If he is heading for the door, it is a sign that he's had enough.
I still use a kitchen timer when I train new behaviours. 'Less is more' applies to training time. More training time does not necessarily result in better performance.
Read here part II
Read here part III
Read here part IV
If you think this is a blog that someone can benefit from, please use one of the share buttons  below. Or post your comment, I read them all!
Or simply hit the like button so I know you appreciated this blog. Thank you!

Sandra Poppema, B.Sc.
My mission is to improve human-horse relationships. I reconnect horse women with their inner wisdom and teach them the principles of learning and motivation, so they become confident and skilled to train their horse in a safe and effective way that is a lot of FUN for both human and horse. Win-win.
Sign up for HippoLogic's newsletter (it's free and it comes with a reinforcer) or visit HippoLogic's website and discover my online 8 week course Key Lessons, Your Key to Success in Positive Reinforcement Horse Training.